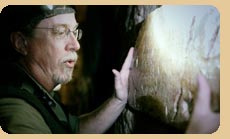 Jay McCarl is a Middle-Eastern Cultural Anthropologist, Theologian, Historian and author. If Mr. McCarl's in-depth knowledge and experience within an array of fields wasn't enough, he's also a one of a few remaining real-world adventurers with over 20 years of experience exploring ancient biblical ruins and writings. Jay has researched dozens of sites in which ancient biblical events have taken place and future ones are prophesied to occur. From traversing the underground tunnels of Jerusalem to the 2,000-year old city ruins of Turkey, Mr. McCarl's research is one of the most thoroughly and rationally conducted in the world.

Mr. McCarl's unique insight of the culture of the people in various Middle Eastern nations has provided an incredible revelation in understanding certain aspects of prophecy that most Western-thinking theologians and professors completely miss. Jay McCarl has a Master's Degree in biblical teaching and continually works with a vast panel of expert theologians, researchers and historians around the world.

Books Written by Jay McCarl

Throughout two years of production, the staff at Ingenuity Films (producers of Decoding the Future) has really gotten to know Jay McCarl whom spends every waking moment either conducting research or teaching biblical theology and prophecy; yet somehow still manages to squeeze in being an author. Currently, Jay McCarl has published three books regarding biblical prophecy and the ancient customs of Israel.